PROJECT-BASED COOPERATION
What do we do?
What do we offer?
We're offering challenging projects for clients from all around the world and the support you need. Our professionalism, experience, and strong management will provide you with the comfort to focus on your development and responsibilities. Working in Codibly means being a part of a great dev-friendly, supportive environment and getting various opportunities in a variety of different projects: governmental, infrastructural, security, FMCG, clean-tech, energy & utilities, and others.
Once you join Codibly, we have a smooth onboarding process to introduce you to the company and the team. You can start making an impact with Codibly!
Meet our talent hunters!
Looking for a new project is hard work itself. That is why our Talent Hunters are here for you. We are the specialist in matching your talents with customers that need your expertise.
In Codibly recruitment process is simplified, straightforward, and fully transparent. We're happy to answer any questions you may have during or even before the whole process. If you need help in finding the perfect project that matches your experience and skills don't hesitate – contact our amazing recruiters via LinkedIn! 
Frequently Asked Questions
How long do outsourcing projects last on average?
In Codibly, we rarely engage in short-term projects (e.g., 2-4 months). Therefore almost all our activities have a long-term perspective. The project's average duration is about 12-16 months, although the longest can reach even 2-2.5 years. Time is always estimated at the beginning and then it can be extended, depending on the situation and the client's decision.
Am I going to be the only person assigned to the outsourcing project, or the whole team will be delegated to work with a client?
In the vast majority of outsourcing projects (60-70%), Codibly delegates a team of several people (approx. 2-5 people), supported by our Team Manager, who takes care of project activities and constant contact with the client. However, there are also "pure" body leasing projects in our portfolio, to which we delegate 1 – 2 people. It is important to note that we do it rarely. 
Who is gonna be my contact person ( help with issues related to absence, working time accounting, etc.)? Is it a person on the client's side or a Codibly employee?
Each team and developer working on an outsourcing project has a dedicated Team Manager from Codibly. It is a person who cares about both formal issues, such as topics related to employment conditions, contracts, or absences, as well as issues linked to cooperation and communication in the project, development paths, level of motivation, or customer relations.

What exactly is the background screening/vetting process?
Vetting is a process of background check of an employee. Therefore – each employee is asked to provide data and documents confirming the last few years of residence and employment. Besides, verification of identity and previous criminal record is required.
It is a one-off process at the stage of joining the project and applies only to selected outsourcing activities. The data that the customer receives from us is not shared with any third parties.
Vetting is a standard procedure for corporate companies, widely known outside our borders, and becoming more popular in Poland. Several dozen people have already participated in this process at Codibly, so we're experienced in handling such sensitive data safely. At the stage of introducing into the process, the employee meets the Codibly vetting tutor, who supports him at every step. Besides, a customer's manager contacts employees to verify the data, always willing to discuss or explain critical issues.
What are the differences in benefits (outsourcing vs. end-to-end projects)?
Anyone joining the outsourcing project benefits from the same standard pool of perks: LUXMED/PZU private medical care, My Benefit Cafeteria, computer equipment, or a project training and integration budget.
What equipment is available for employees from outsourcing projects?
Anyone joining an outsourcing project receives the company's computer equipment. It comes either from the customer himself, in the case of increased security requirements, or directly from Codibly.

Does the client have fixed working hours?
Flexible working hours apply to most of the outsourcing projects carried out by Codibly. However, specific requirements in this regard may appear in selected activities (e.g., 10-18). Each time – in the case of recruitment for a selected project – the details are presented by the Recruiter during the first telephone conversation, confirming the availability and readiness of each Candidate.
Are there any gaps between projects? Are they paid / free?
Each recruitment process in the outsourcing area is dedicated to a specific project. At the same time, knowing about its imminent completion – as a company, we offer the opportunity to look for new project options. However, we do not guarantee the continuation of cooperation and a paid break in the period between projects.
Am I going to be employed for a specific project?
Yes. The collaboration we offer is based on a contract for a specific project with a clearly defined duration, the possibility of extension, and a one-month notice period.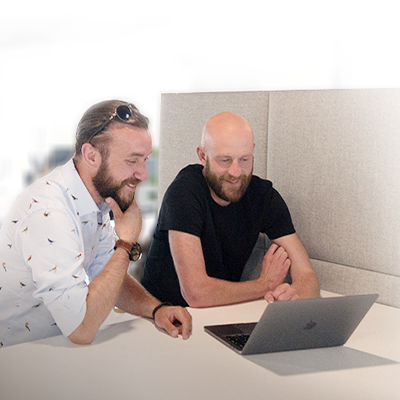 Didn't you find anything for yourself?
Don't worry! We're still growing and looking for exquisite talents
CONTACT US