3D online simulation, which reflects the real working environment, procedures, used tools and medical equipment
INDUSTRY VERTICAL
Digital health, Healthtech, Augmented reality, Virtual reality
About PA Consulting
PA Consulting implements ingenious business strategies across a wide range of industries, helping companies incorporate the latest technology achievements and innovations into their business growth.
Within the healthcare sector, PA Consulting specializes in future care models, digitalization of healthcare, MedTech, HealthTech, transforming healthcare payers, workforce planning for primary care, societies and associations, sustainable future for healthcare providers, and telehealth.
Business needs
Providing the highest possible quality of training for future medical personnel
Delivering a high-tech technology solution in a form of the 3D online simulations platform of the real working environment, procedures, tools, and medical equipment
Training best-in-class healthcare specialists who provide professional medical help and clinical care for children's physical health
Creatin technology solution that accelerates the overall medical staff training process
Solution
PA Consulting aimed to build their own simulation tool, fully adjusted to future healthcare specialists' needs. The designed solution's main requirement was high flexibility that allows easy expansion dictated by medical diagnostics' dynamic development.
Codibly created a software solution dedicated to digital health and wellness technologies that enables precise illustrating the working environment of the future medical. Online simulations allow trainees to recognize the physical state and issues of patients, necessary medical support and procedures, as well as deliver all required information during the process. Codibly's team chose PlayCanvas technology that allows working on mobile devices to meet these goals. The designed application is compatible with the SCORM standard, used in most popular Learning Management Systems. Medical scenarios prepared in 3D technology are available in the form of an online test that allows the trainees to identify health issues using the resources normally available in the real w working environment. Each scenario represents a unique situation of a sick child, who should be helped in a specific manner, depending of the in compliance with the Pediatric Assessment Triangle (PAT).
Simulations take place in a hospital environment to ensure that used tools, equipment, vital signs, and medical measurements illustrate the real work environment's conditions. Due to high-quality 3D graphics, students can diagnose a patient similarly as during a real admission. The online course enables verification of the student's knowledge level in the form of additional diagnostic questions. In case of a wrong decision during the diagnosis, trainees get hints that lead to the right care method.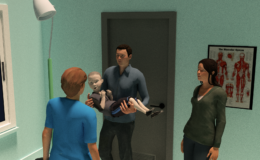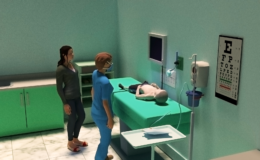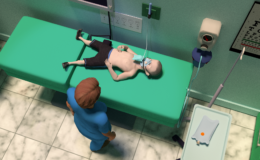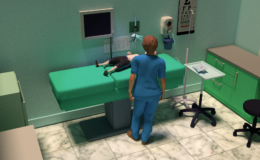 Results
Simulations taking place in a hospital environment allow trainees to become acquainted with tools, equipment, vital signs, and medical measurements, preparing them to the real working conditions
The online course form provides immediate test results and enhances the training process
Used technologies accelerate the training process of the public health sector new employees- trainees receive instant feedback in case of wrong decision and hints that guide them toward correct solutions
The application raised the quality of training courses and saved money from the first days of its implementation