1. Poor charging infrastructure
What goes on behind the scenes is a set of agreements between grid operators, charging manufacturers, and land owners. This means it is expensive to set up a charging network with installation costs from $2,500 for a slow charger to $35,800 for a fast charger.
Gaining a grasp of the best-fitting charging networks for home or office-premise use might be difficult. For instance, one might struggle to identify what electric charging infrastructure will be best if it is to be used in a densely populated area. In fact, charging availability is a major factor when owners are looking at buying electric cars, with some not confident in the way the network is set up.
Rural areas are depleted when it comes to charging infrastructure, too. This space needs heavy investment to allow poorer communities access to EV charging. Installing midway chargers and overnight chargers might be a step in the right direction.
2. Vehicle-grid interoperability
The required logistics, communication, and agreements between the grid, utility companies, and charging manufacturers are currently scarce. The situation is limited because of the lack of communication to agree on a wide-scale adoption of an affordable, reliable, and secure electric vehicle charging network for drivers.
With the vehicle-to-grid infrastructure now possible, the necessary protocols and technology require all these parties, too. This is often because government or utility companies withhold information that is simply not handed out to the charging network providers. This often results in slowing down of development time and making the project less profitable.
3. Station performance and downtime
The psychological element of range anxiety plays on drivers' minds. Even though most electric cars now have a range of 300+km, it is still something that needs to be shaken off. Once an owner reaches a charger with less than a 10 km range in their battery, finding a functioning charger is the next issue. 
The electric charging infrastructure has a lack of reliability which is often called out on social media and news outlets. These EV challenges occur for around 60% of EV owners, with the rest saying they haven't encountered any issues at all. This could all start with the manufacturer error checking before, during, and after each charger is used. When charger companies are informed immediately of the issue, they can address it on-site and not waste users' time or additional stress during their charge experience.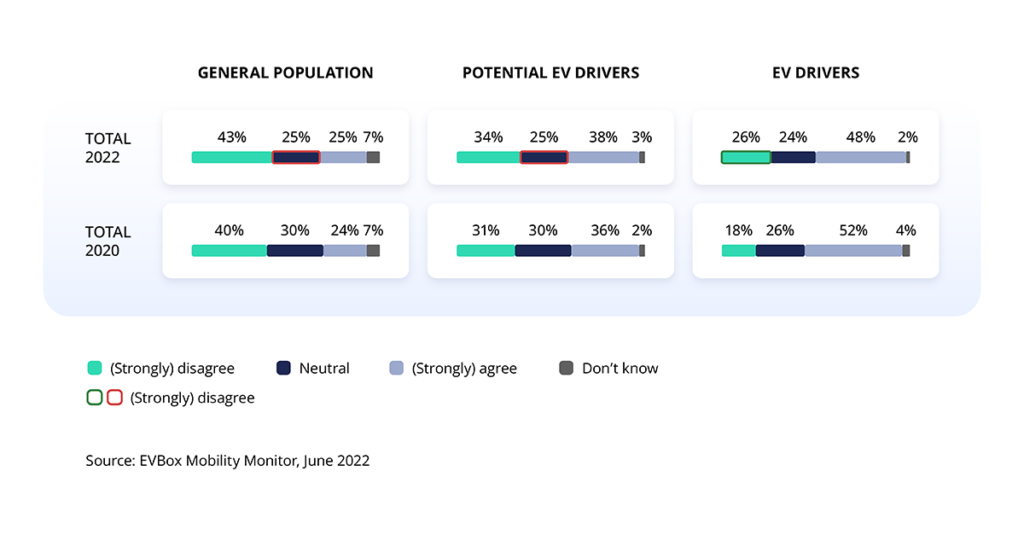 4. Payment method integration
Apps, contactless cards, QR Codes, and RFID cards are among the many ways you can pay for charging your car. This wouldn't be an issue if you could use all these methods simultaneously, yet it's not commonly the case. The obvious solution would be to either have one app or method to pay for electricity during charging, but all brands would need to come together to achieve this. Otherwise, those that are not good with technology may get flustered and would be against the electric vehicle charging network, resulting in them not purchasing an electric car.
Germany has recently introduced a law named Ladesäulenverordnung. Meaning that companies are required to make it easier for EV drivers to turn up and charge by just using a debit or credit card. This will come into effect as a rule by July 2023, with most networks adapting to those needs already. Hubject is an example of a company helping with this, offering a backup payment method for EV drivers. Removing the need to download and sign up to all different apps when looking to charge your vehicle.
5. Power issues while charging
Customers that use rapid chargers at service stations often need them for on-route purposes. This means they are doing longer distances and need a reliably fast charging speed that consumes a lot of power. Managing the grid at peak times is one of the major challenges for power companies and installing chargers only adds to this headache.
The ideal scenario? Turning up when you need a top-up of power, plugging in for no longer than 10-20 minutes whilst traveling families grab a coffee before they continue their journey. However, it's the exact charging network that dictates how much power is being delivered. Although some modern EVs can charge at 300kw, most chargers do not fully utilize this speed. Sometimes, the power delivery is not available from the grid, and other times, it might happen that the charger overheats if used at peak power for too long.
6. Charging station to network 
Protocols that allow electric charging infrastructure to communicate are currently limited to just one network provider. This is an issue if the charger needs an upgrade, or if they wish to change networks. 
If the protocols were open for switching between networks it would open a world of opportunities. A switch between network service providers helps competition and adds an element of upgradability within the existing network, saving money on upgrades over time. New charging stations can be installed without changing network providers too.
This is where the Open Charge Point Protocol (OCPP) comes in. The OCPP is an open networking standard that Europe uses. It is gaining traction in the US, too. While current versions (OCPP 1.5, 1.6, and 2.0) have limitations in their setup, they are accepted by most networks and their expansion may be important for network integration.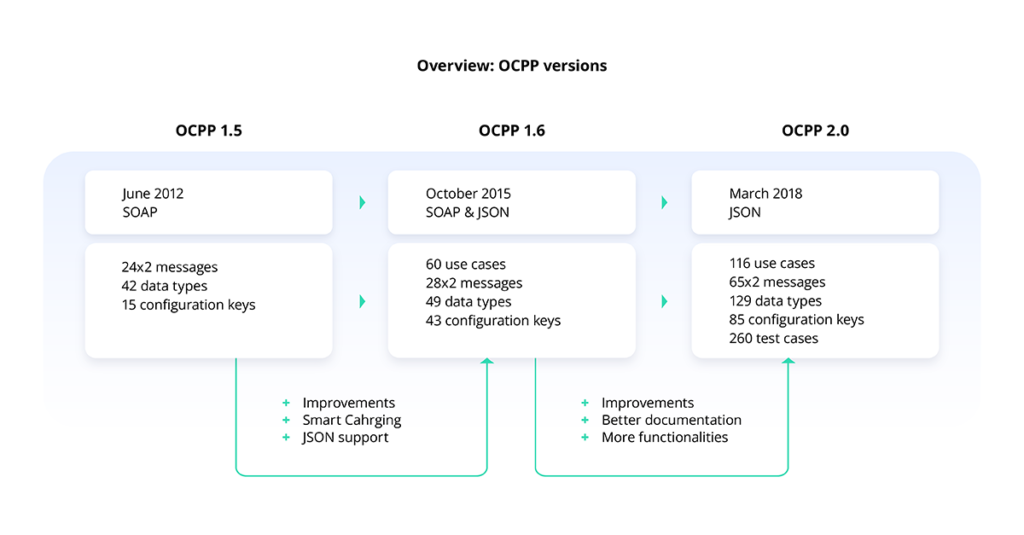 7. Finding balance between rapid charge points and on-street units
The fine line between having not enough chargers at home and too many in service stations is a hot topic. Studies have shown that homeowners typically will charge overnight at their place of residence. However, not all homes can have a charger installed.
The UK government has released a £950 million fund to support a minimum of 6,000 high-powered charge stations across England's motorways and major A-roads by 2035. Highlighting recently that over 250 chargers have opened up in 30 days to emphasize their commitment to current EV challenges. 
Facing issues such as power delivery in remote areas, the government representative Richard Bruce, of the DfT mentioned "if you need to open up the grid connection to it, that is quite expensive."
8. Ease of use while charging
Richard Bruce, of the DfT, also mentioned that the user experience of recharging an EV has been "extremely poor for too long." The unreliability combined with the uncertainty of a charger being available at the destination is a real issue for drivers. Alongside the issues using multiple apps, and cards, and the overall hassle of paying for charging your EV.
Long-term plans include allowing users to look at the whole network on a single app. Find which charger is functioning and available, along with the pricing of each charger to get the best value out of their experience. Disabled drivers must be able to charge their vehicle quickly and easily with plenty of access, something the UK government has committed to improving too.
EV challenges must be tackled to boost electric vehicle efficiency
Technology and innovation are driving the electric vehicle space with exciting ways to charge, longer-range batteries, and rapid charging capabilities to get users back on the road as quickly as possible. The grid, local governments, and legislation are all falling behind in coming up with a refined way for drivers to charge their EVs.
Limitations on the electric vehicle charging network include the lack of protocol sharing, limited network changes, and the infrastructure to support the high power consumption that some chargers need. 
Payment methods in recent times have been a headache for owners too. This needs to change to centralize one method or app to take over the market for all charging networks – making the process much easier. Consumer surveys have proven customers fear not finding a charge point when their range is low, putting them off buying an EV. 
However, other consumer surveys show that 40% of EV owners do not have any issues charging. With the right mix of home and highway service station chargers, these issues can be resolved, as long as the funding, infrastructure, and communication exists between the grid, charge point manufacturers, and local governments to legislate the charging network as a whole.