What is the onboarding process for new hires?
Even though the COVID-19 pandemic left quite a mark on many industries, the IT market handled it just fine. Codibly is a good example of it. Since the beginning of this year, we have constantly been growing and recruiting new hires to grow our team and live up to new business challenges. So what exactly happens when you are hired? Here are some tips about what you should expect during your first days in Codibly and how exactly does the onboarding process flow looks like.
The employee onboarding consists of 5 steps spread over 2-3 months' time. During each one, you get to know the team members and the company better. You can also share your thoughts and first impressions on your daily work, collaboration with the team and management, company culture, or onboarding experience.
What types of meetings will you attend?
At first, there will be quite a lot of various meetings but don't worry – we keep it focused on the subject and as short as possible to give you time to dig into your project and working methodology. To make it easier for you, you can check the types of meetings in the onboarding process flow chart below.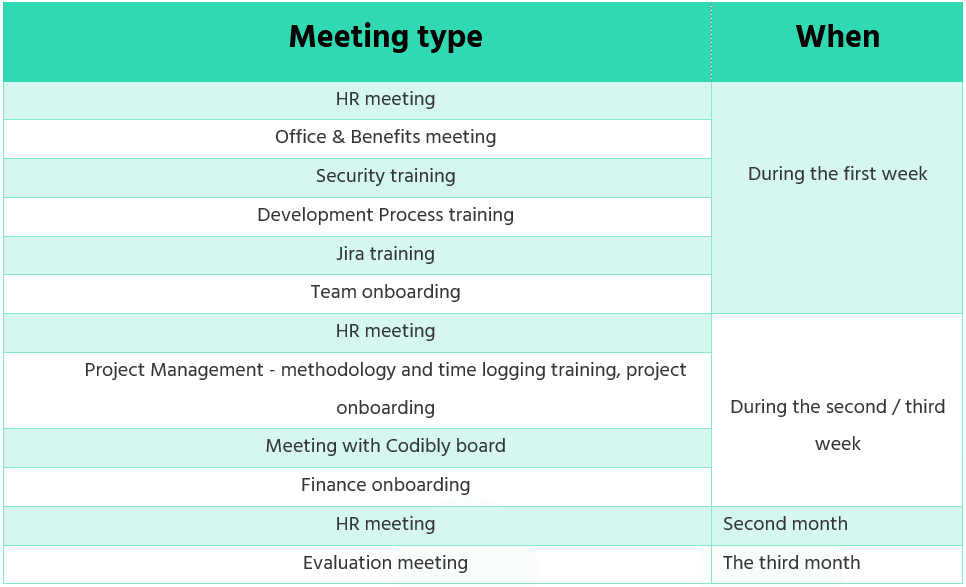 We provide you with all the necessary resources and a kind of onboarding checklist and agendas to ensure effective onboarding and readiness to dig into your project.
What are the five steps of the onboarding process flow in Codibly?
As mentioned, our employee onboarding is split into five steps, during which you gain knowledge of who we are and how we work together.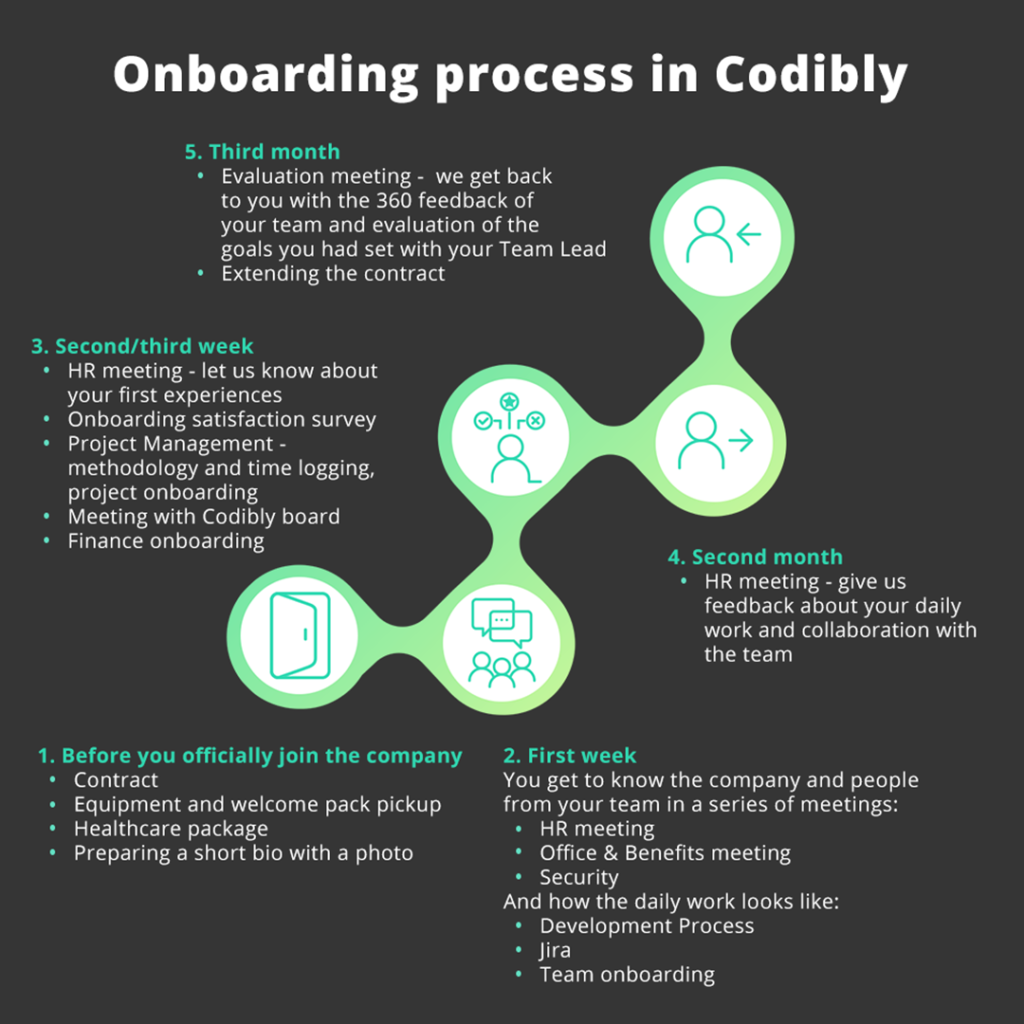 Before you officially join the company 
You are already hired but have not yet joined the company officially. It doesn't mean nothing is happening at that time. Your onboarding process has already started!
Before your work kick-off, we're preparing your contract, equipment, and of course, a welcome pack to greet you properly. At this time, we are also handling your healthcare package. You will receive onboarding materials to get a hint of who you will be working with and who we already have on board. It will help you during the first days when everybody is new, and it is hard to remember who is who in the company structure.
To make it work both ways, we will ask you to draw up a short bio with a photo of yourself to introduce you to the rest of the team on your first day.
First week
Obviously, the first few days will be the most intense time. During the first week, the administration team will show you the ropes concerning the office, some standard processes on an every-day basis, and you will choose your customized option of benefits. 
You will also learn about the security standards and protocols during the security training and, the most interesting part, how we work. After onboarding with your team members, you will attend in Jira and development process pieces of training to understand how we operate with daily tasks.
At the end of the week, our HR team will check on you if everything is ok.
Second / third week
During the following two weeks, the HR team will ask you to share your latest experiences and impressions. If you need anything or don't know who you should address your questions to, you can share it then or simply talk with your team lead anytime.
We will show you some 'handy' stuff, like the project management meeting, where you get familiar with our methodology and time logging standards on the special training. You will also go through financial onboarding, it is a kind of invoicing process training all new employees attend and meet our board members to learn through Codibly structure.
Second month
The last meeting with HR will concern your overall feedback after a month of work. We would like you to share your thoughts on how you see this organized, if you have any ideas on improving it, etc.
Third month
This is the time for evaluating our collaboration with you. Your team lead will get back to you with the result of the 360 feedback survey, where your coworkers gave you their feedback about you on both soft skills and hands-on experience and knowledge. If everything is going fine and everybody is satisfied with the ongoing collaboration, we will offer you an extension of your current contract.
You will also evaluate your goals with the team lead and set the next one for the next six months to describe the areas you want to develop yourself and gain or improve your skills. It can be soft activities or gaining some expert knowledge from chosen areas. It all depends on you and your agreement with the team lead.
Your feedback on the employee onboarding process flow and candidate experience
Once you become a new hire, we will also ask you to give us feedback on the onboarding process flow and onboarding experience as well.  If you think that particular steps should be improved or you have some good ideas or experiences to implement, include them too. 
We are evolving all the time and we want to build an organization where everyone feels included and appreciated. As we are aiming to do it from the bottom to the top of the company, feel free to share your opinions and ideas.  After all, you are building that dream with the rest of us.