What is IT staff augmentation?
IT staff augmentation is the process of hiring outside help to supplement your in-house IT team.
By using IT staff augmentation services, your business can get the IT support it needs without having to add full-time employees. This can be an excellent way to save money and get the help you need when you need it, but also scale your project progress.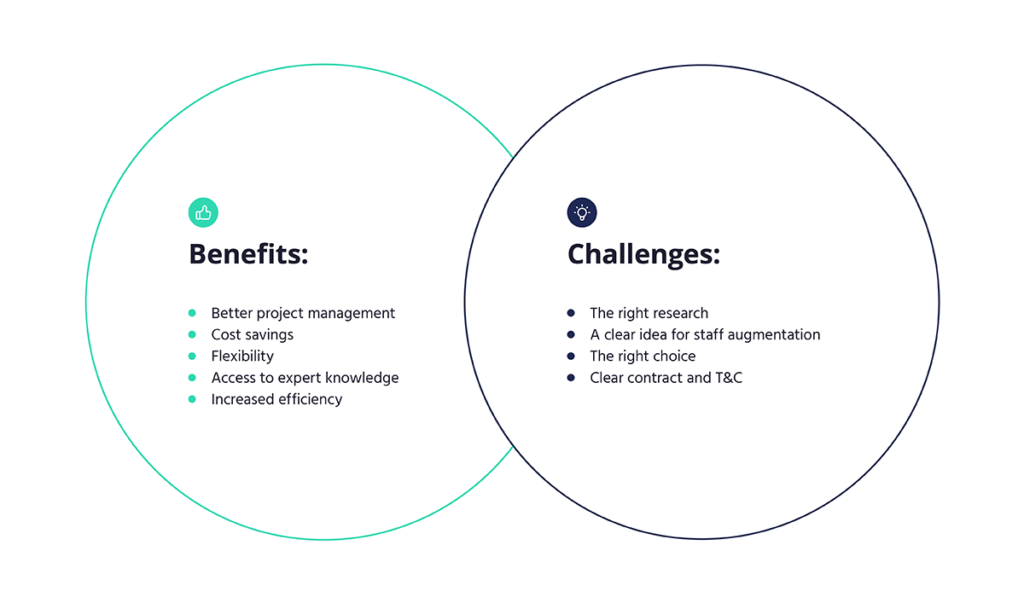 Staff augmentation vs outsourcing
Outsourcing is often confused with staff augmentation. But there are some key differences between the two services. Let's take a look:
Staff augmentation is about supplementing your in-house team with additional skills and expertise coming from a staff augmentation tech talent, whereas outsourcing is about hiring a third party to manage all or part of your project.

Staff augmentation is usually for a short-term project, whereas outsourcing is often for a longer period of time.

Staff augmentation gives you more control over the project, as the team works with your in-house team, whereas outsourcing can give you less control as the third party manages the project.
Benefits of IT staff augmentation
There are a number of benefits to using IT staff augmentation services. Here are just a few:
#1 Better project management
Many project managers struggle with the fact that they simply can't be in more than one place at a time. When you use IT staff augmentation, you can have multiple project managers working on different aspects of the same project simultaneously.
This can help keep your project on track and ensure that it's completed on time and within budget.
#2 Cost savings
When you use IT staff augmentation services, you only pay for the help you need when you need it.
Staff augmentation dedicated teams can save your company a significant amount of money compared to hiring employees, and on top of that, you can avoid the costs associated with benefits, training, and onboarding, health insurance, office space, or any additional resources.
#3 Flexibility
If you decided on augmented staff, you gain the flexibility to scale your project progress and scope as needed. No matter what happens, you'll always have the right number of people working on your project – no more, no less.
You get back a lot of time and money in the long run, as you won't have to worry about overstaffing or understaffing your project.
#4 Access to expert knowledge
When you use IT staff augmentation services, you have access to a wealth of expert knowledge and experience. This can be invaluable for your business, particularly if you don't have in-house expertise.
This vast talent pool can enhance your internal development teams and give you access to rare specialists you can hire on-demand basis – otherwise, you may never get a chance to work with them.
Getting immediate access to deep knowledge is one of the main advantages of staff augmentation, so your company may want to leverage that.
#5 Increased efficiency
Having your own in-house development team is great, but what happens when they get bogged down with work? This can lead to a decrease in efficiency and an increase in project timelines. When you use IT staff augmentation, you can ensure that your projects are always moving forward efficiently. Your in-house team can breathe easy knowing that they have the support they need to get the job done right.
When should you use IT staff augmentation services?
While there are a few use cases for using staff augmentation companies, here are a few of the most common:
#1 You need help with a specific project but don't want to add full-time employees
With augmented teams, you can get the assistance you need without having to hire employees. Using this method, you can get started on a new project or supplement your existing team.
For example, let's say you're launching a new product and need help with the development process. You could use IT staff augmentation services for short-term job positions, instead of wasting your time on finding skilled developers.
#2 You need to scale your project scope or progress and need additional support
Scope creep is a common issue in project management, but it can be difficult to add more resources to your team when you're already short-staffed.
With staff augmentation, you can quickly and easily scale your project as needed.
For example, if you're working on a software development project and run into unexpected delays, you could use software development companies that offer staff augmentation services to get your project back on track.
And on top of that, if you need to increase the scope of your project, you can do so without having to find and onboard new employees. Doesn't it sound just perfect?
#3 You're looking for expert knowledge and experience that you don't have in house
Your existing team can be brilliant, but they can't be experts in everything. When you use IT staff augmentation, you can tap into a huge opportunity of finding specialists with the skills and experience you need.
For example, if you're working on a big data project, you could use the staff augmentation model to find data scientists with the specific expertise or portfolio you need. And if that's on a temporary basis, they may be considered a kind of temporary workers who simply fit into the right staff augmentation model.
#4 You want to fill a skills gap in your team
Let's say that your in-house team is great, but you're missing a few key skills. With staff augmentation, you can quickly and easily fill those gaps.
For example, if you need help with marketing your product, you could use IT staff augmentation services to find a marketing specialist. You can get devops engineers to scale quickly while prioritizing cost and quality.
#5 You want to provide additional support during high-demand periods
Relaunching your product? Introducing new features? If you're expecting a high demand for your product or service, you can use IT staff augmentation to provide additional support.
For example, if you're relaunching your product, you could use team augmentation services to find developers who can help with the development process.
You can also use managed service providers who can help with the launch and manage the project for you. Flexibility is often unlimited and comes down to the specific managed service provider and the agreement made.
#6 You want to reduce costs of software development services
Whilst staff augmentation can help you save money in the long run, it's also a way to reduce costs in the short term.
For example, if you're working on a project with a tight budget, you could run staff augmentation process to get the project done within the budget.
This would be especially helpful if you're working on a fixed-price project.
By using staff augmentation services, you can get the help you need without breaking the bank, and that's what makes it such a popular option for businesses.
Challenges of IT staff augmentation
Many business leaders see the benefits of IT staff augmentation and want to use it for their next project. But there are some challenges that you should be aware of:
#1 The right research
It can be difficult to find the right staff augmentation team, as there are many companies out there who claim to offer the best services. If you consider staffing services, do your research to make sure they will fit your company, and contribute to the project's success.
With a dedicated team, you can be assured that the company will have the right skills and experience for your project.
The last thing you want is to end up with a team that doesn't fit your company culture or work style, or worse, a team that doesn't have the necessary skills and experience.
#2 A clear idea for staff augmentation
Is staff augmentation what you need, or we're talking about the outsourcing vendor? Make sure you have a clear idea of what you want from the staff augmentation company. What specific skills and expertise do you need? What kind of team do you need?
If you're not sure, it's worth talking to a staff augmentation company to get their opinion on whether or not staff augmentation is right for your project.
It might turn out that an outsourcing model is better, or that a hybrid model would work best.
#3 The right choice
Your research may be done, but you still have to make the final decision on which company to go with.
Once you've found a few companies that you think might be a good fit, take a closer look at their services and see if they're a good match for your project.
If you're in need of custom software development, you might want to be on the lookout for a company that specializes in that. If you're looking for a team to help with an existing project, you might want to look for a company that has experience with similar projects.
The right choice of staff augmentation company can make all the difference to the success of your project, so take your time and choose wisely.
#4 Clear contract and T&C
You need to have a clear contract in place so that both parties know what is expected. Each service designed, or milestone achieved, should have a corresponding price. This way, there are no surprises down the line.
The contract should also include a clear timeline for the project. This will ensure that both parties – clients and augmented teams – are on the same page and that the project is delivered on time.
Naturally, you should also ensure you're clear on the payment terms. IT staffing agencies will often require a deposit upfront, with the balance to be paid upon completion of the project, but this will vary from company to company.
Understanding the fine print is often crucial for administrative support and team management within the project.
It's important that you're comfortable with the contract and the terms and conditions before you sign on the dotted line.
Best practices for IT staff augmentation
#1 Identify what kind of extra talent you need
To make IT staffing cooperation models work, you need to first identify the skills and qualifications that are currently missing from your in-house team. Trying to staff an entire project with people from outside is usually not the most efficient way to go about it.
Focus on those key positions that will make the biggest difference to the success of the project. For example, each project needs a good project manager – if no team member has the necessary skills and experience, then this is something you should look to staff externally.
The same goes for developers – if your team doesn't have the necessary skillset in-house, then it's worth looking into staff augmentation to supplement your team.
Developers with specific expertise in the technology you're using can be hard to come by, and staff augmentation can be a good way to get the skills you need without having to invest in training for your existing team.
#2 Introduce clear communication
The key to a successful relationship is to set clear communication channels from the start. This way, everyone knows who to go to with questions or problems.
If you're working with an IT staffing company, make sure you have a dedicated point of contact within the company. This is usually the account manager assigned to your project, but it could also be the project manager or another member of the team.
Within your own team, you should also designate a clear project manager. This person will be responsible for liaising with the IT staffing company and ensuring that everyone is on the same page.
They will also be your go-to person for any questions or problems you might have with managed services, remote developers, or even QA engineers.
#3 Consider using project management tools
When you're into staff augmentation for your project, you will need to use some form of project management tool to keep track of progress and deadlines.
There are a variety of different project research tools available, so it's worth taking the time to find one that suits your needs. You might work with a development team that uses a specific tool, in which case it makes sense to use the same tool for consistency.
However, as long as project management tools are helpful, you might want to look at streamlining the actual process first. This stands for any business, not only if you're into IT staff augmentation.
There are a few project managing tools that are particularly popular in the world of software development, such as Jira and Trello. Ensure that your dedicated team is properly trained in the use of these tools before they start work on your project.
Jira is a popular tool for tracking bugs and issues, while Trello can be used for project management more generally.
Using even one of them can help all dedicated teams to stay on the same page and avoid misunderstandings.
However, if you work with the right IT staffing company, they will already have their own project management processes in place. In this case, you might not need to use anything else other than what they provide.
#4 Clarify the scope of the project
No matter how big or small your company is, you likely don't have the bandwidth to handle every little IT issue that comes up. And while using IT team augmentation is very often the right hiring model, you need to know what kind of scope is of your interest.
Be clear about what you expect from the outset. Start from the basics: what kind of project do you need help with? What are the deliverables? When is the deadline?
Having an extended team by your side can be very helpful, but only if you're clear about what you need from them. If you're not sure about the scope of your project, you should probably circle back with your internal team before you start looking for external help.
#5 Divide responsibilities and deliverables
Always know what to expect from an outsourcing company. Having an experienced team doesn't necessarily mean that they will be able to do everything you need them to do.
When you're looking at different IT staffing companies, make sure you understand what they can and cannot do. Or, what they can do within the budget you agreed on. Remote developers, for example, can be a great resource for small tasks or one-off projects.
But if you need help with long-term maintenance or complex issues, you should consider an extended team of QA engineers to meet all your business needs within that chosen outsourcing model.
To augment your team, or not to augment your team, that is the question
IT Staff Augmentation: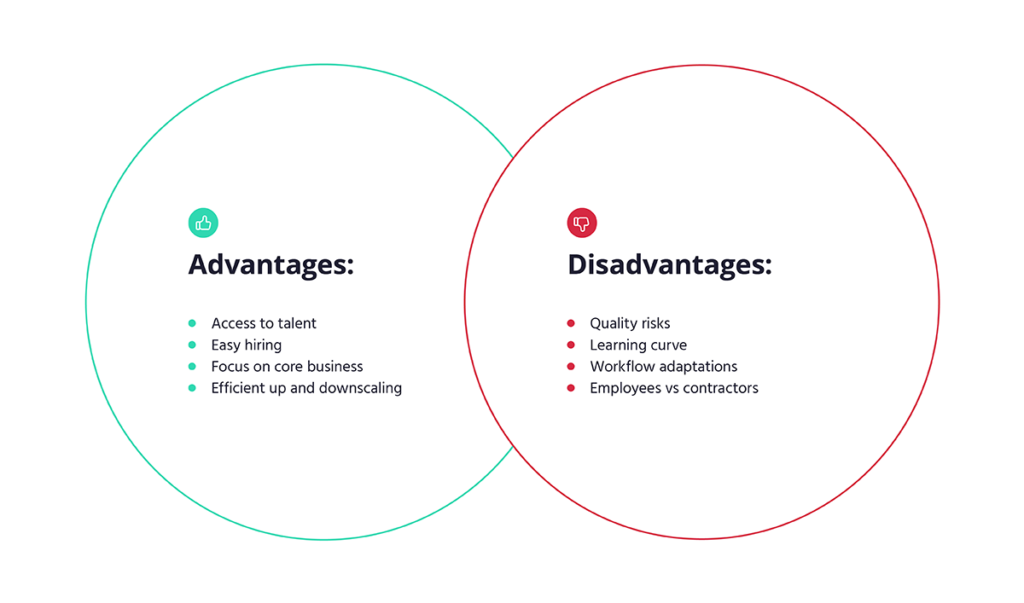 Accessing extra talent, be it for a one-off project or on an ongoing basis, can be excellent, and you can be extremely satisfied by the outcome. However, before you reach out to a development team that offers IT staffing managed services, you should first consider whether staff augmentation is the best solution for your project.
It usually is, though!
Instead of thinking of how to interview candidates, conduct ongoing training, develop soft skills, or build up technical expertise in your team, you can leverage IT staffing.
Reach out to an experienced team and scale quickly your business needs – to the level you thought would be unreachable.
Here at Codibly, we know what augmented staffing services can bring to your business. Discover our tech talent, and let's talk about your project today.
No matter if you're a managing director, CTO, or product owner, we're here to help you scale.
That's all for now! If you want to learn more about staff augmentation or other IT services we offer, please visit our website or contact us straight away. We would be happy to discuss your specific needs and see how we can help.