What exactly are outsourced IT services?
Outsourced information technology services are comprehensive, managed services that businesses can use to supplement or replace an in-house IT department. Simply put, IT outsourcing is exactly what it sounds like – professional information technology needs that are outsourced to third-party companies.
This can be a great option for businesses that don't have the staff or resources to handle their own IT needs, since outsourced IT providers usually offer a range of services that can be customized to meet specific requirements.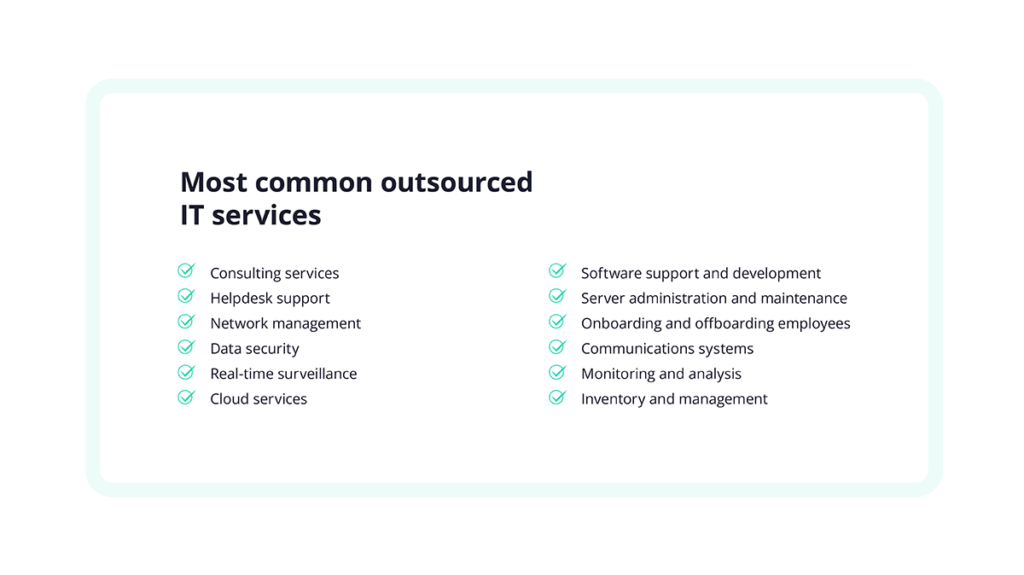 Almost any type of IT service can be outsourced, but some of the most common include:
Consulting services

– getting expert advice on the most suitable solutions to meet your unique business needs and help you make the most of your technology investments.

Helpdesk support

– having access to technicians who can provide assistance with a wide range of IT issues that may arise, such as software or hardware issues, network connectivity difficulties, or virus and malware infections.

Network management

– ensuring the smooth operation of your infrastructure by overseeing and maintaining your firewalls, routers, and other hardware to help prevent downtime and keep your business running smoothly.

Data security

– safeguarding your digital files with routine backups, disaster recovery plans, and other measures to ensure confidentiality and integrity of your business documents.

Real-time surveillance

– using advanced monitoring tools to help you detect and prevent security breaches or other potential threats.

Cloud services

– leveraging the power and convenience of the internet to streamline your business processes, improve collaboration among employees, and avail from cost savings.

Software support and development

– creating and maintaining custom solutions that can help your business stay competitive and improve productivity.

Server administration and maintenance

– maintaining continuous uptime and performance through routine upgrades, patching, and troubleshooting.

Onboarding and offboarding employees

– streamlining the process of bringing on new hires or outsourced contractors, and keeping your IT systems secure while they're using them.

Communications systems

– managing and optimizing your phone system, voicemail, email service, and other tools to help keep lines of contact open between you and your customers or partners.

Monitoring and analysis

– analyzing your IT systems and processes to identify trends, inefficiencies, vulnerabilities, or other areas that could be improved with better technology.

Inventory and management

– keeping track of all your IT assets, including software licenses and subscriptions, hardware devices, warranties, and more.
Why are outsourced IT services beneficial for businesses?
Most businesses today rely on technology to some extent, and many feel like they are constantly playing catch-up when it comes to their IT needs. Hiring a full-time in-house IT staff can be expensive, so it may not be feasible for small businesses.
However, outsourced IT services can provide the technical support you need at a fraction of the operating costs. Besides the financial element, contracting your IT needs out to a third party provider comes with many more advantages that we'll also explore below.
Financial savings
When you outsource your IT services, you only pay for the services you use. This means you don't have to worry about paying a salary or benefits for hiring a full-time, in-house staff, which can be costly.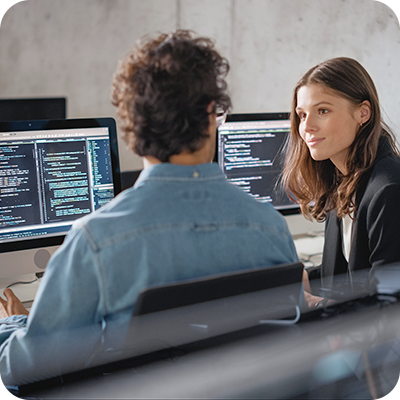 Increased efficiency
An experienced and well-trained IT department can streamline processes and implement automation where possible. Moreover, because IT outsourcing services are often provided by specialists with extensive experience and expertise, your needs will very likely be met in a timely manner.
You also won't have to spend time and resources training staff or struggling to figure out the technology yourself, since an outsourced IT service provider is often able to implement and maintain your technology more efficiently than you could on your own.
Highly skilled professionals
Companies that offer outsourced IT services invest a great deal of time and resources into training their staff, so they are highly skilled and able to provide a level of expertise that may be difficult to find internally. Small businesses especially can benefit from this, as they may not have the budget to hire top-notch IT staff on their own.
Greater focus on core aspects
Outsourcing services allows you to direct more of your attention on the most crucial business activities that truly need your input. As a result, you can streamline and optimize your IT operations and make more strategic decisions to improve your bottom line.
Access to the latest technology
You will also be able to take advantage of the latest cutting-edge solutions that are being utilized by your IT outsourcing partners to stay up-to-date with current best practices or trends. Having such access to the latest tools and technologies without having to worry about investing in them yourself will keep you competitive on the market.
Unique perspectives
Outsourced IT companies often work with multiple clients in a variety of industries, so they tend to have their own distinct insights. These can help you identify opportunities for improvement in your own business processes and make better business decisions.
Frees up your internal staff
If you choose to outsource your IT needs, you can save time and resources that would otherwise be spent on managing and troubleshooting technical issues. This gives your internal IT team more time to focus on their critical roles in the company, ultimately leading to higher levels of productivity and performance.
Scalability
It's easy to increase or decrease your use of outsourced IT services depending on your needs at any given moment. Flexibility to scale up or down can be particularly beneficial for businesses that experience fluctuations in their technology needs.
Improved security
With an experienced team overseeing any potential security risks, you can rest assured knowing that your data is safe and secure. Outsourced IT service providers are often able to implement and maintain the latest security measures, so you can sleep easy knowing that your systems and data are well-protected.
How to go about outsourcing your IT needs?
If you are considering outsourced IT services, there are a few things to keep in mind.
Determine your requirements
Clearly identifying your needs before searching for an IT outsourcing service provider will help you find one that is a good match for your business. Doing this in advance therefore enables you to get the most value out of outsourced IT services.
Decide what to outsource
Not all aspects of your IT needs should necessarily be contracted out to a third party provider. Instead, you may only want to focus on a select few areas, such as network security or maintenance.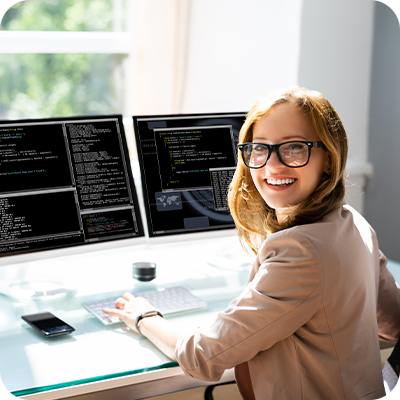 Research different options
There are many outsourced IT service providers out there, so take the time to explore the various options before you make a decision. This will help you find a provider that offers the expertise, experience, and services that meet your needs.
Contact potential providers
Once you have narrowed down your search, reach out to prospective IT outsourcing partners on your shortlist to get a sense of their services, pricing, and other key factors. As such, both you and they will be able to make an informed decision about who to work with.
Form bonds with your provider
Once you find a good outsourced IT provider, it is important to build a strong working relationship with them. Doing so will allow you to work closely together to get the support and services you need, as well as their insights into how you can improve your IT operations.
Conclusion
The bottom line, if you're looking for a cost-effective and flexible solution for meeting your business's technology needs, is that outsourcing IT services may be the right choice for you. Doing so gives you access to a group of experts who can streamline your business operations and improve productivity.
Are you convinced about the many benefits of outsourced IT services, but don't know where to start? Then consider contacting a reputable service provider today and start reaping the rewards of working with an experienced team of professionals.
How about Codibly? With over a decade of experience in providing outsourced IT services to businesses of all sizes and industries, Codibly may well be the right choice for your company. Contact us today to learn more about the services we can offer you.