How does the renewable industry look now?
Let's talk a little about our current energy landscape before looking at the future of renewables.
The total global energy demand for electricity reached 13,393 TWh in the first half of 2022, up from 13,004 TWh in the same period in 2021. Our global greenhouse gases emissions (GHG) also reached record levels, unfortunately – in 2022, we have emitted 58 gigatons (GT) of greenhouse gases.
Even so, the drastic increase in coal, oil, and gas prices provided an excellent push for many countries to invest more in renewable resources for their current and future energy production:
That's for the general statistics. Let's now look at some statistics about the growing popularity of different renewable sources of energy.
Solar energy
Solar installations have never been as popular as they are now. Just in the UK, 79,560 solar PV installations were built in the first six months of 2022. That's a 30% increase compared to the 61,431 panels installed in 2021. Globally, 268 gigawatts of solar capacity were installed in 2022, bringing our current solar capacity to 850.2 gigawatts.
But while the amount of generated energy is around 10 times as high as it was just 10 years ago, it's still only a fraction of the power that can come from the sunlight. If we could convert the entire energy coming from the sun, then in just one hour, we could generate enough electricity to power 2,880 trillion light bulbs!
We are still quite far from that though, as most solar panels can only convert around 20% of the sunlight into electricity. Last year though, researchers at Fraunhofer's Institute for Solar Energy Systems developed solar cells with a record efficiency of 47% last year, which might revolutionize the solar industry in the near future and help us cut our carbon emissions even more.
Wind Energy
Investments in wind turbines have also increased significantly, for a few reasons. Wind is virtually everywhere in the world, making it possible to use it for generating electricity even in remote regions. Wind turbines can also convert energy into electricity much more efficiently than, for example, solar panels.
What makes wind power really stand out though, is that wind power also has the lowest carbon footprint of all renewable sources of energy. Onshore wind turbines emit 11 grams, and offshore wind emits 12 grams of carbon dioxide per kWh of electricity produced. Biomass meanwhile emits 230 grams of CO2 per kWh – much less than coal but still much more than solar or wind turbines emit.
Thanks to all those benefits, the number of new wind installations is steadily increasing. In the US alone, there are already 89,000 wind turbines, with 1,751 new wind turbines installed last year. With those investments, the amount of power the US can generate with the turbines has also massively improved.
In 2000, wind turbines in the United States generated only around 5 terawatts of energy per year. However, in 2010, the amount of power generated grew to 94 terawatt hours. And in 2021? 379.8 terawatt-hours per year, making wind the largest source of renewable power for the United States.
According to Eurostat, wind also accounted for over one-third (37%) of the total electricity generated from renewable sources in the EU in 2021. Britain's wind meanwhile farms generated a record 26.8% of the country's electricity in 2022 – making it the second biggest source of energy in the UK after gas.
Hydroelectric power
Currently, hydropower represents 40% of global renewable energy capacity, far ahead of solar generation (28%), wind (27%), and biomass (20%). That's because besides generating electricity, hydropower plants can also offer flood control, help irrigate the fields and provide clean drinking water for the nearby regions.
But the most significant benefit of hydropower plants is that they can also work as long-term energy storage, with far higher capacity than any other storage method. Pumped hydro storage capacity is typically even 100 times higher than any available battery solution, and the power inside it can be stored for years.
That makes PSH currently one of the most used energy storage technologies. In the United States, for example, hydropower storage accounts for 95% of all utility-scale energy storage capacity. Norway meanwhile uses hydropower to cover around 90% of its energy consumption needs and relies on the water reservoirs to store energy for the peak electricity demand winter season.
Where is the renewable industry heading?
2022 has been quite a tough year for the power sector, homeowners and businesses, as Russia's attack on Ukraine caused one of the worst global energy crises in the last decades.
In virtually every country, the cost of electricity surged – and businesses were among the most affected. Red Flag Alert, a business intelligence company, warned that 76,000 firms in the UK could go bankrupt or be forced to lay off a part of their staff because of the drastic increase in energy costs. Unfortunately, experts don't expect things to improve anytime soon, with some fearing that the coal, oil, or gas prices might further increase in 2023 and worsen the already difficult situation. 
The good news is though that the global crisis has created unprecedented momentum for renewables and clean energy. International Energy Agency expects that in the next five years, the global renewable power capacity will grow by 2,400 gigawatts, which would equal the total power generating capacity of China today.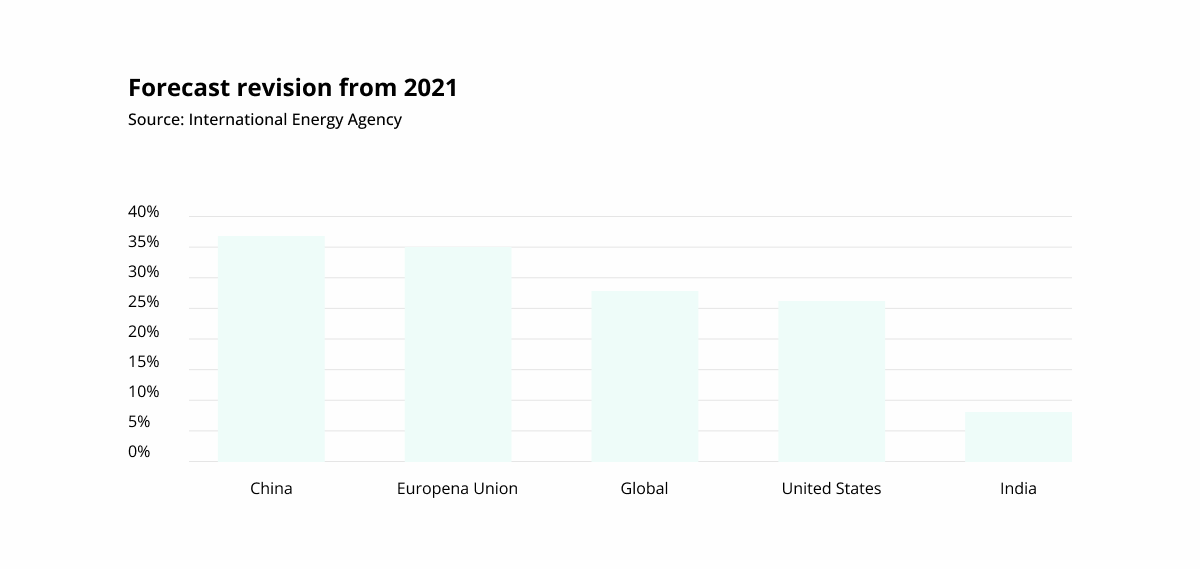 Moreover, the report predicts that by 2025, renewables will account for over 90% of global electricity expansion, overtaking coal as the world's leading electricity source and visibly lowering our carbon emissions.
Other experts coming from the power sector are just as optimistic regarding the potential of renewable resources and our future energy production: 
So as you can see, even though replacing fossil fuels with renewables entirely is likely to take several years, we have every reason to be optimistic – the progress we made in the last few years is really something impressive.
The role of software in the future of renewable energy
While we talk about how we can use renewables more effectively to further reduce the amount of coal, oil, or gas in our lives, we shouldn't neglect the role that software plays. 
While the renewable plants themselves need little attention, managing the amount of power generated by those plants, stored inside the storage systems, and consumed is an entirely different matter. Keeping an eye on renewable generators can be especially tricky if a company has multiple solar panels or wind turbines and those are spread across the country.
Moreover, companies also need to control both how much power is stored inside storage systems as well as the state of the storage systems (especially batteries) itself as well, to ensure that they have a backup source of energy in case renewable production drops.
Manually maintaining those systems, especially if multiple batteries are used, or different types of storage are used, is quite time-consuming though. However, using software solutions for the renewable industry can make the management and maintenance tasks much easier – and more efficient. Through those solutions, renewable plant owners can:
Control the entire energy process – from generation to storage, distribution, and energy consumption.

Monitor the performance and health of their entire renewable infrastructure and quickly find out whenever one of the devices starts malfunctioning  

Gather data on the amount of energy generated, stored, lost, and consumed across their entire infrastructure to boost their energy efficiency

Allow them to manage the power generators or storage systems remotely

Keep track of how much energy is stored in storage systems and how and when it should be used.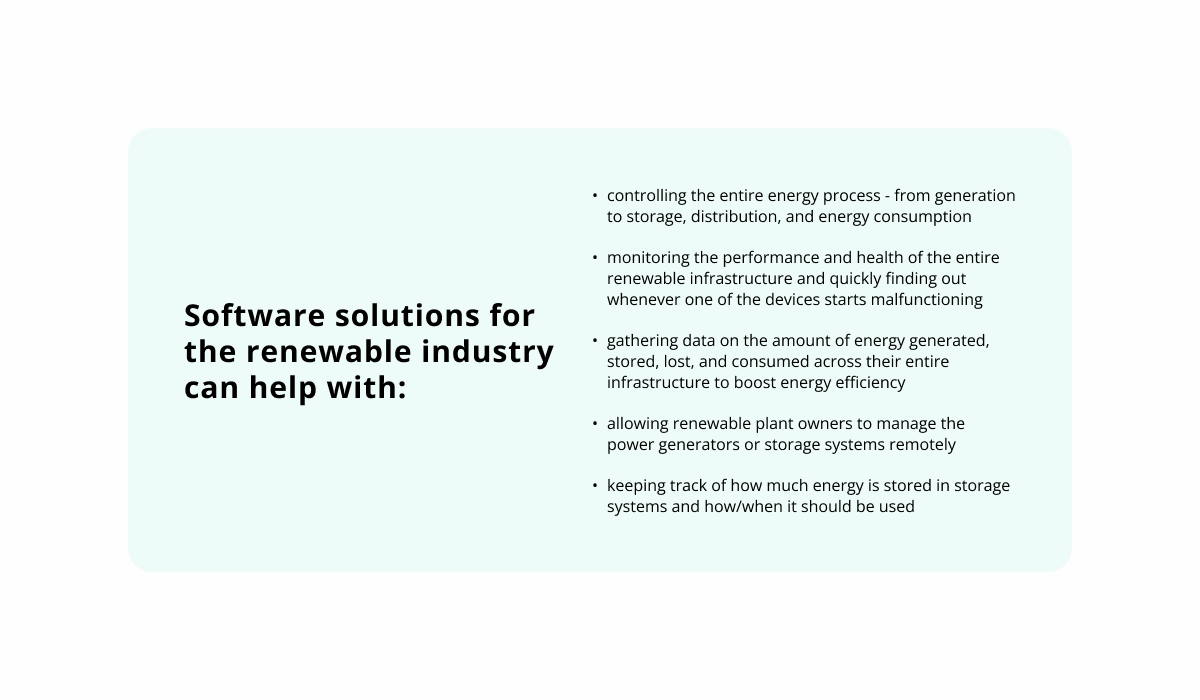 The platforms essentially help owners of renewable energy plants gather data about the performance of their infrastructure and make better decisions about their usage based on that data. For example, looking at the data about peak electricity usage, businesses can schedule when the power stored in their batteries should be released, to reduce the amount they take from the electrical power grids – and this way, reduce their bills.
But the sensors included inside the platform can also alert the owners whenever any of their equipment starts to behave suspiciously. Lithium-ion batteries, for example, are susceptible to temperature changes or short circuits – and in the worst scenario, they might even explode.
A battery management system can prevent those issues since they typically have several in-built functions to monitor the battery's state and react to any unusual activity. For example, they can turn on the cooling system in case they detect abnormally high temperatures of the battery.
How can Codibly help you build a dedicated management platform for your renewable energy infrastructure
As you can see, having a dedicated platform to keep an eye on your renewable plants infrastructure and consumption for you could help you make better use of the energy generated. Not to mention, it could save you plenty of time (and effort) you would otherwise have to spend on monitoring the entire equipment yourself.
However, building such software requires both plenty of knowledge about the renewable industry but also excellent programming abilities, and access to the latest technology.
At Codibly, we specialize in designing tailor-made platforms for the renewables industry though – whether it's wind farm management software, photovoltaic systems, solution for solar energy management, or a battery control system.
For the last one, we worked together with Electriq to create a system that could help them boost their energy efficiency. That's how we created PowerPod – a fully-integrated energy storage, management, and monitoring system that includes safe lithium-ion batteries and a hybrid solar/battery inverter controlled by intelligent software.
The platform also combines smart battery systems, weather forecasting, utility rate, and historical data on solar production and consumption to help them make better use of the generated renewable energy.
Therefore, if you are looking for someone to help you optimize solar power and battery storage, we'll be happy to lend you a hand.
Conclusion
As the saying goes, "every cloud has a silver lining ."The energy crisis brought by the war in Ukraine, together with our thinning supply of fossil fuels, was the push we needed to speed up moving from coal and oil to much cleaner renewable power. As the energy coming from wind, sunlight or hydro dams is also pretty much inexhaustible, we don't have to worry about running out of those anytime soon either.
While it will likely still take several years before we'll be able to power our houses and businesses entirely with solar, wind, or hydropower, we are on the right way to do so. And together with the renewable energy and storage management platforms, taking advantage of the full potential of renewable energy powers will now be much easier as well. So that's all the more reason to turn your business green with renewable, clean energy.