World energy crisis and the consequences
World total energy supply (TES) increased by 68.2% from 1990 to 2019, surpassing 600 EJ for the first time. On the one hand, looking at how nearly everything we are using now needs power to function, the rise in energy usage seems obvious. The problem is though, most of the power is still coming from non-renewable resources such as coal and oil – and we are quickly running out of those. In addition, the currently ongoing war in Ukraine also threw the energy market into chaos.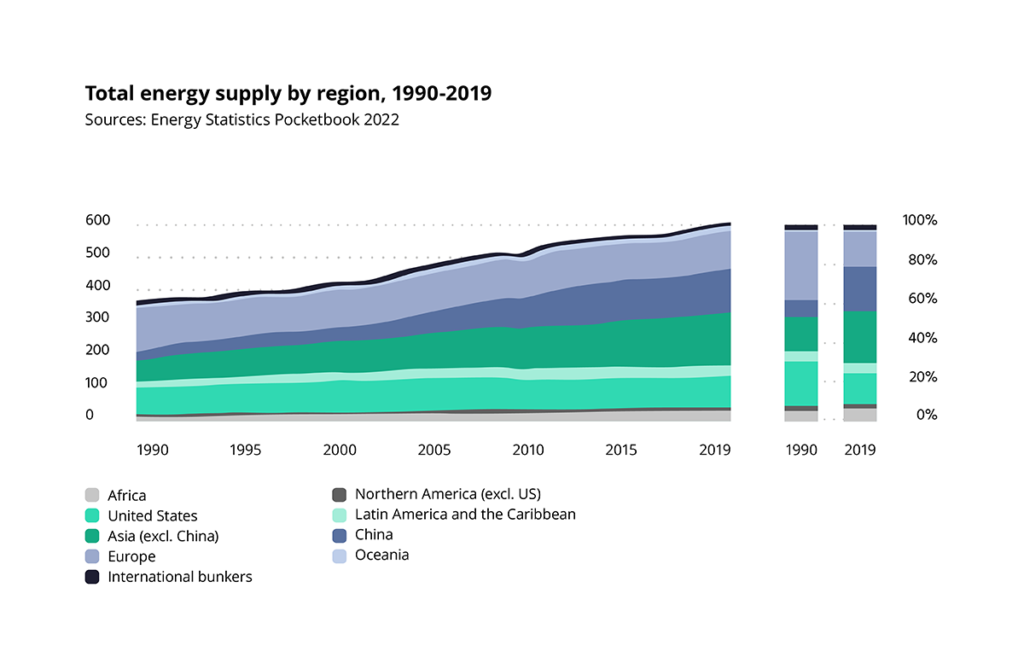 Results? The electricity, gas, oil and coal prices are skyrocketing – and it doesn't look like they might drop anytime soon. That makes companies from all industries and sizes look for ways to cut their energy demands as it's a matter of survival for them now. In the UK, for example, the growing energy costs forced 4 out of 10 companies to scale back. Meanwhile in Germany, almost a fifth of industrial companies plan to reduce production due to high energy costs.
How energy management systems can help companies reduce energy costs
Many companies are now also turning to energy management systems (EMS) to help them spot places where they are wasting energy to reduce the impact of growing costs.
An energy management system is a platform through which a company can monitor all power-generating or consuming devices, learn where they could lower their consumption, and also track their goals related to being more energy-efficient. 
Newer, cloud-based energy management systems also allow companies to:
Remotely monitor and control HVAC and other energy-consuming equipment

Gather real-time data for each piece of equipment and create customized reports

Monitor power quality level and potential device issues

Predict the estimated energy usage and bills for the next month

Identify and point out energy-saving opportunities in the building

Track energy savings results
Thanks to those features, businesses can now know everything they need about the energy consumption in their company (no matter how many devices they have) and quickly find out what parts of their building can be optimized.  If they are using different resources for powering their devices or equipment and are getting several data usage invoices, then an EMS system can also put that information into one place and display them side-by-side for easy comparison. With remote control meanwhile, managers can manage all of the devices connected to the EMS while away – for example, to make sure that the lighting and air conditioning are turned off for the weekend. 
Energy Management Systems: What you should research before deciding on one
An EMS system can offer your business numerous benefits: significant budget savings, higher efficiency, far better control over the energy flow in the company, and also reduce carbon footprint considerably. (We wrote more on the benefits of the EMS system in our other articles, "What is an EMS system" and "Energy management systems" where you can learn why they will revolutionize business.) 
However, the solution can only work to its full power once it is tailored to your specific business needs. That means you'll need to do a bit of research before you can get down to either picking one of the out-of-the-box solutions available or building a custom system. 
The first thing is that you should know for what purpose you need the EMS platform. For example, do you want to just learn more about the energy usage in the building, monitor the building or factory equipment for any (potentially very costly) issues, or maybe you want an all-in-one solution for monitoring electricity, gas, and oil consumption? Knowing your goals will make it easier to pick the correct type of EMS system (and its features) out of the many available.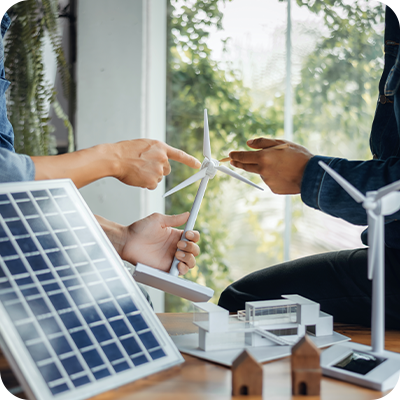 There are also a few other factors to consider while you are researching the available options:
The main energy-related issues you want to fix

(that will help you pick the features you should have in the EMS platform)

Who will be using the platform?

(A dedicated team who will need sophisticated features and settings? Or you want the employees to regularly use the platform as well? )

Do you need the platform to be integrated with other tools, such as water or gas provider applications?

 

Are there any industry-specific features you will need?

(say, those for monitoring your factory equipment and alerting in case of malfunction)
In-house or outsourced - how should you build the EMS system?
There are so many ready-made EMS solutions available on the market now, after comparing those with your requirements list it might turn out that neither of them matches your needs. If you need custom features that the available platforms don't have, or want the EMS solution to seamlessly integrate with your company's systems and devices, then going for a custom-made platform is usually the better option.
However, should you build the EMS system in-house, with your own team, or outsource the project to a development company? Let's look at the pros and cons of each option.
1. In-house development
The first option is to build the EMS platform with your own development team. 
This option has the advantage that you will have complete control over the entire process, from start to finish. You can choose which developers you want to work on the project, assign tasks, monitor their progress, and if needed, schedule a quick meeting to discuss project changes or any appearing issues. Since, as your employees, the developers also know what issues the company is facing and are familiar with the platforms and tools, they won't need as much time as outside developers would need to understand the EMS project requirements. 
The list of potential problems with in-house development is far longer though. One, to build an EMS system from scratch, you will need quite a few developers with experience in different areas: interface designers, database experts, UX developers, testers, and more, depending on how complex the EMS project is. If you only have a few developers working with you or neither of your in-house hires have the necessary skills, it might make designing and building a new system entirely in-house quite challenging.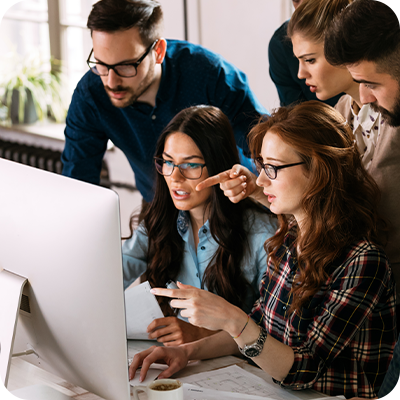 Of course, there's always the option of hiring additional team members – but the recruitment, interviews, and onboarding might take a lot of time and force you to postpone the EMS project until much later. Not to mention, hiring new employees in-house come with significant costs – starting from the HR process itself to training, salaries, benefits, paying for work equipment, and so on. 
If you are convinced that you want to grow your development team and that you will have enough tasks for the new developers even after the EMS project is finished, then postponing the project until you have the team ready might be worth considering. 
However, there is one more way you can handle the project in-house without hiring or training new staff – outsourcing a few developers to add to your main team via team augmenting. In our previous article, we talked about what team augmentation is and how companies can benefit from it – you might find the option useful if you are looking for a developer to join your team but don't exactly have time for the paperwork.
2. Outsourcing
Another option you have when you want to have a custom EMS built from the ground up is hiring a development company experienced in creating this type of software. 
The first benefit is that you don't need to search for and hire additional developers or give extra work to your current developers. After meeting the developers and project managers a few times to discuss your needs and requirements, you can then leave the outsourced team to handle the project from start to finish. Plus,  as they have worked on several similar projects earlier, they can recommend the best way to design and build the energy management system to match your specific requirements.
A development company also employs developers from multiple fields and with various skills or technologies they are experts at. So if you need someone with very specific skills for the project, there's a good chance the company will have someone working with them who has those skills.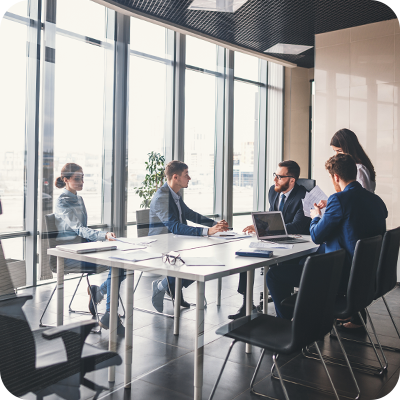 However, the most significant advantage of hiring software development companies is how flexible they are. If you don't have time to manage the project yourself, you can let their team handle it and come back when the new software is ready. However, you can also borrow one or more developers with the skills the in-house team is lacking for them to work on the project in-house, via team augmentation. If you need to add or replace team members while the project is already in progress, that's not a problem either – you just need to call the project manager and tell them about your needs. 
Are there any cons to hiring outside developers for the project? Well, there are.
First, you will need to spend some time researching and interviewing software development companies to find the right one for the project. While you can find thousands of development companies online (some with very low hourly rates), some of them might not have the skills or experience needed to build an EMS that will have the features you need and will also be easy and convenient to use. So it's essential that you have a look at a company's portfolio, reviews and also book a quick meeting with them to discuss your requirements first.  
Hiring an outsourced company might also seem quite costly, especially when you look at how much the development companies might charge for their services. However, together with their services, you get the developers' expertise and industry experience that'll ensure you get a fully functioning product matching all your requirements. For one-off projects, taking advantage of team augmentation to add the missing experts to the team will also cost far less than if you had to find, hire and train new, full-time developers.  
Poweric - a platform for building a custom EMS solution
We might also have a solution for you if you want a customized Energy Management Solution but do not have the time or resources to build it from scratch. Namely, our Poweric platform. Poweric is an all-in-one platform for monitoring, managing, and controlling all devices you use in your company: from HVAC, heat pumps, and controlled loads to batteries, solar panels, gateways, and electric vehicle supply equipment. 
As the platform is made of several independent modules that can be added or replaced as business owners need it, it can be easily tailored to each business's specific requirements. Depending on whether you want to optimize energy usage, monitor your power plants, or use the platform to enhance your EV station capabilities and user experience, you can add different modules to Poweric – and replace them when you need.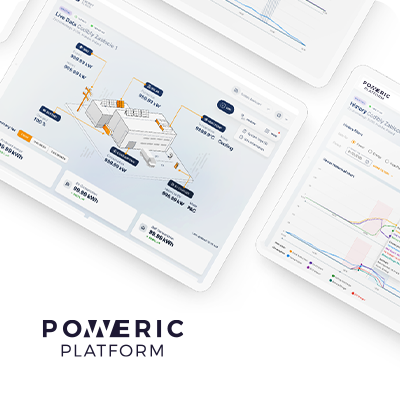 Here are the other features of Poweric you might find valuable:
Device-agnostic and supporting multiple protocols so you can easily add devices coming from various vendors. 

Scheduled maintenance feature to prevent equipment issues.

A large number of available platform integrations.

Processing, analyzing, and visualizing big data collected from any devices connected to the platform.

Remote command center through which you can control all connected devices.
We'd be happy to show you a demo version of the platform if you think it might be useful to you. You can schedule a demo by filling out the form under the link and sending it to us – then we'll contact you to schedule a meeting.
Conclusion
As we are still far from having the energy crisis under control, learning how you can better manage the power your company is using is crucial. However, EMS solutions can make this task easier: it will keep monitoring all your equipment for energy usage, notify you about any issues and also give you some tips on how you can lower consumption without harming your company's efficiency. 
If you need some advice before starting the EMS project (or a few hands to help you with the development), don't hesitate to reach out to us at Codibly. We can either give you a few tips on how you should build the platform to meet your needs, share our talented developers to work on the project together with your main team, or run the project from start to finish. All so you could be sure you are on the right path to cutting your energy consumption – and bills.