What is a Charge Point Operator (CPO)?
A Charge Point Operator (CPO) is software that manages a network of electric vehicle (EV) charging stations. The EV CPO is responsible for: 
Monitoring the charging equipment 24/7.

Flagging any issues noticed.

Automatically setting charging prices and handling invoices.

Managing and balancing the electricity load.

Handling simplest and most repetitive tasks, such as generating reports or invoices.    
The main goal here is to take some of the manual tasks from the station owners' shoulders while also ensuring that the charging station is available to users at any time and that their charging experience is as smooth as possible.
What are the benefits of using a Charge Point Operator (CPO) solution?
Why exactly might you need EV CPO software to run the station though? Mainly to save your time as a station owner. Think about it – how much time do you spend gathering data about your station performance or energy usage, creating invoices, or monitoring the charging equipment?  
Probably far too much. Charge Point Operator software can handle all those for you, so you have more time you can use to grow your business further. But the CPO software can also help you manage energy usage and costs, lower maintenance costs, and also boost your customers' experience when they are using the station. 
How exactly can the CPO station do this? Here are a few EV CPO features and benefits that should pique your interest.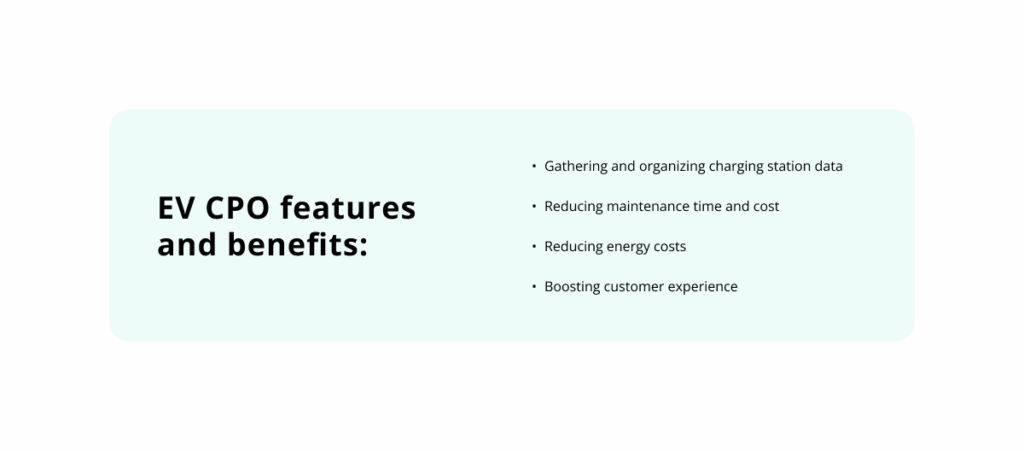 Gathers and organizes charging station data for you
Even if you have only one charging station, tracking and adding into spreadsheets information about electricity usage, revenue, payments, maintenance costs, and several other things is probably quite time-consuming. 
And what if you have several stations? Then it's probably hard to keep track of everything related to your stations. 
Charge point operator software can automatically gather the data for you and then turn those into valuable insights into how the charging station works. This kind of information can be invaluable when it comes to figuring out how to manage the costs or improve your drivers' experience. 
Plus, the application can also provide weekly or monthly reports, which can be used for billing, auditing, and financial reporting reducing the need for staff to input data manually.
Reduce maintenance time and cost
It's unfortunately still quite a common issue that when drivers find a nearby EV charging station for their electric car, it turns out that one or more of the chargers are malfunctioning, and they can't charge the vehicle. If that happens, it's likely the driver won't return to the station again.
Monitoring manually the entire charging equipment for potential issues isn't an easy task though – especially if you have a few EV charging stations in different locations.
Charge Point Operator software can help here as well by automatically monitoring the equipment condition, scheduling regular maintenance, and auto-notifying owners or technicians of any issues or malfunctions.  That way, you can learn about equipment issues immediately and send a technician to inspect and fix those – even if you are currently far away from the station. 
Automated maintenance will also keep the equipment in good shape for longer, saving the budget that would otherwise go for replacing broken devices or fixing large-scale issues (that, for example, causes all of your chargers to malfunction). 
Bonus: an EV CPO can also monitor usage patterns and pinpoint times when a given station is mostly empty. Using the information, you can schedule the technician's visits for times when you don't have many drivers, so they could run the check-ups without rushing.
Reduce energy costs
CPO software can also be pretty helpful when you want to keep an eye on energy usage and costs – especially in times when energy prices are growing so fast. In charge point management software, you will be able to see exactly how much electricity each charge point consumes every day, as well as set rules for when a charging station can be used. You can also set charging limits inside it, so the chargers and vehicles don't use up more energy than they need. 
An extra benefit is that you can add renewable energy sources or local energy storage to the system as well and then use those to power your business. 
Boost customer experience
Do you want more drivers to be able to find and use your charging stations and then easily pay for their charging? Or pay different rates for their charging depending on the time of day? Or maybe even get tailored charging offers?    
Having CPO software can help you with all those things. Inside the platform, you can set the charging either per kWh, charging period, or time of the day, and then the CPO will automatically calculate the charging price for the driver. Drivers will also be able to pay for charging in any way that is convenient for them, and an invoice will be automatically generated and sent to them.
Most ready-made CPO services also come with a dedicated mobile app that can significantly improve the drivers' experience. For example, the app can show them the closest charging stations that match the drivers' needs, show them all available information about the station (together with the shortest route) and allow them to pay for their charging without leaving their car.
CPO as a service or custom-made - which one to pick?
Now that you know how a Charge Point Operator works and what benefits it can bring to an EV business, you might start thinking about getting such a solution for your station. But here comes the question: should you buy a license for one of the many available services or rather build one from scratch?
 Ultimately, it comes down to which option best meets your needs. So to see which option will work for you better, let's now compare both CPO-as-a-service and a custom-made CPO, starting with the former.
CPO-as-a-service
The first option you have is to buy access to one of the many available Charge Point Operator online services offered by third-party companies. Since the demand for EV cars and charging stations is only growing, so does the number of charging station management applications – PlugSurfing, Ampeco, or ChargePoint are just a few examples of available platforms. 
The biggest benefit here is that you can start using the software straight after buying the license and configuring the software to fit your needs. You don't need to worry about buying special equipment for the CPO to work (such as dedicated servers) or hiring technicians to set everything up and then maintain the infrastructure either. All of those things are on the provider's side – so  the only cost you'll have to worry about is the monthly or yearly subscription cost. 
What's more, the service comes with most of the features you need to run the EV charging station efficiently which are available out-of-the-box, and also includes an API that allows you to connect the system to other platforms you are using (such as CRM). Several systems also come with a "white label" option, meaning you can use your own branding for the CPO.
The main drawback here is that those solutions usually only have basic features included and might be pretty difficult to customize. So if you are looking for unique or industry-specific features, then you might have a hard time finding a platform with those. You also need to triple-check the security and compliance measures inside each EV CPO solution (especially those related to protecting customer data and payment information) to ensure that your customers' data will be safe inside the application.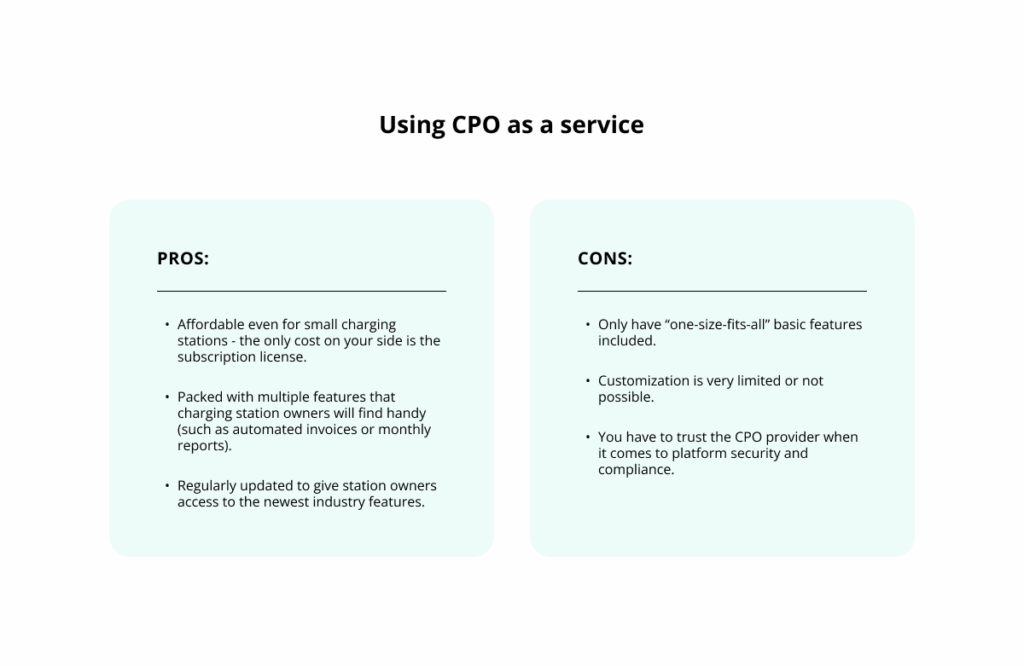 Building a custom-made EV CPO
If you can't find a ready-made CPO solution with the features or integrations you need, then it might be worth building a dedicated Charge Point Operator platform for your station. Creating custom software allows you to define every aspect of the new product – from design and security to its features and integrations. 
For example, if you need particular integrations for the CPO solution, software developers can add those for you. If you want to boost the security of the platform's database meanwhile, developers can recommend to you what security measures should be added to it.    
Custom software is also made with the future in mind. If you need new integrations or features to be added to it, then you can ask the development team to add those for you. That way, you can have a CPO that grows along with the charging station business and has precisely the features you need to make your business as efficient as possible.  
Those benefits come with a (quite hefty, unfortunately) price tag though. Depending on how complex the CPO software should be and how many features you want to be included, the development cost could range from a few thousand to a few hundred thousand dollars. Besides the development services, you'll also have to pay for dedicated equipment, regular maintenance, upgrades, and bug-fixing services. So it will be a significant investment.
You also need to keep in mind that designing and releasing a dedicated CPO platform will also take much more time than buying a subscription for a ready-made one. If you will hire a development team for the task, then they will have to first schedule a few meetings with you to discuss the requirements and then spend time on market research, design, development, and testing stages. 
That way, it might take from a few months to even over a year before the software is ready. So if you are pressed for time, a custom-made solution might not be your best option.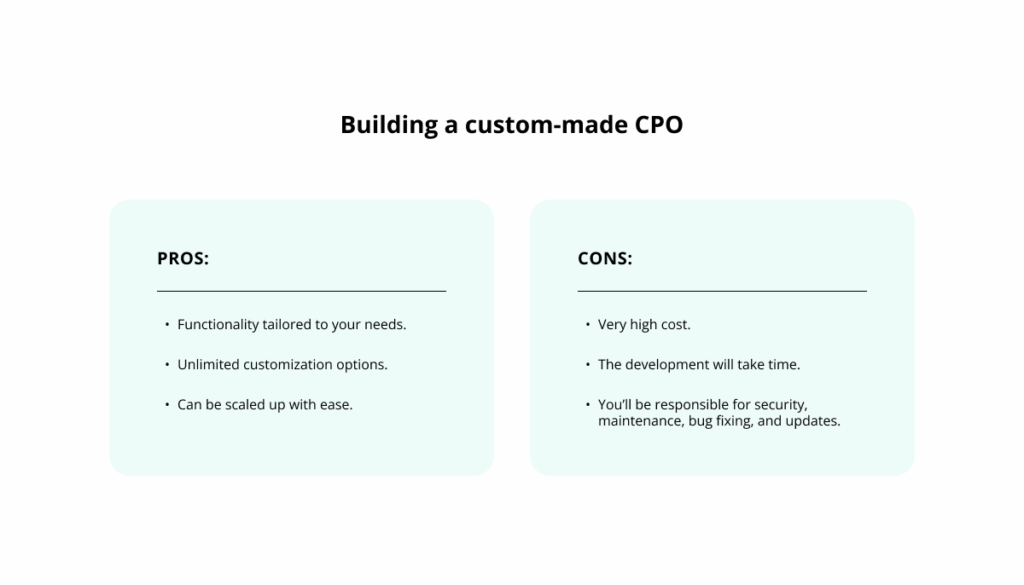 CPO as a Service vs. building your own CPO - making the decision
As you can see, both using a ready-made CPO and building a system from scratch have their own advantages and disadvantages. If you are starting with a Charge Point Operator management system or have a tight budget, then CPO-as-a-service might be a good option. If you need software with very specific functionality or integrations though, and your budget can afford it, then custom development is worth considering.  
We've summarized the main points of each option in the table below: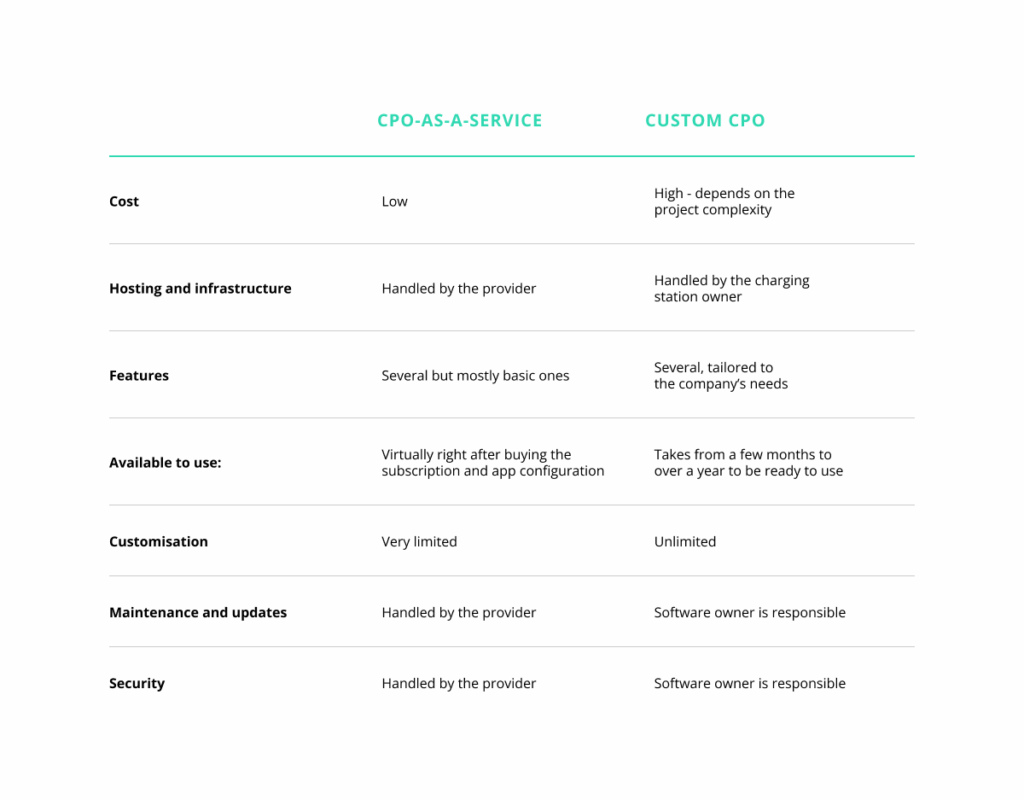 How can Codibly help with custom CPO development?
With a ready-made CPO service, as long as you compare the options and pick the best one for your needs, you're good to go immediately after buying the subscription. However, if you are sure you need a custom-made solution, then things are a bit more complicated as you need a development team with EV industry experience who can build such a solution for you.   
Then, how about reaching out to our team at Codibly?
Depending on your needs, we can either:
Work together with you on designing the Charge Point Operator software from start to finish.

Send one or more of our EV industry specialists to help your in-house team with handling the project.

Introduce you to our

Poweric Platform

through which you can manage the charging stations (and not only) remotely.  
Send us short information on what exactly you need, and we'll schedule a call so we can talk in more detail about your goals.
Conclusion
Having charging station management software can make plenty of things easier for you as the owner. Your equipment will be monitored all the time for any malfunctions or issues, the billing and reports will be handled automatically, and you'll be able to control energy usage as well. 
Which one should you pick though, a ready service or custom-made software? You might want to start with a ready service since they are affordable, and you can begin using them immediately. On the other hand, if none of the existing solutions meet your needs, or if you don't want to send your customer data to a third party, creating your own CPO may be the best solution.
As long as you take your time researching your options and then choose the charging station software option that suits your needs best, you'll quickly see the benefits of using it – trust us 😉