Open Charge Point Protocol - introduction
OCPP stands for Open Charge Point Protocol and it is an open-source initiative fronted by a global consortium named Open Charge Alliance (OCA). Most of the modern EV chargers are OCPP compliant in order to anticipate future requirements of the e-mobility market. This solution is here to stay and reshape EV charging so it will be easier to grow your business within the industry.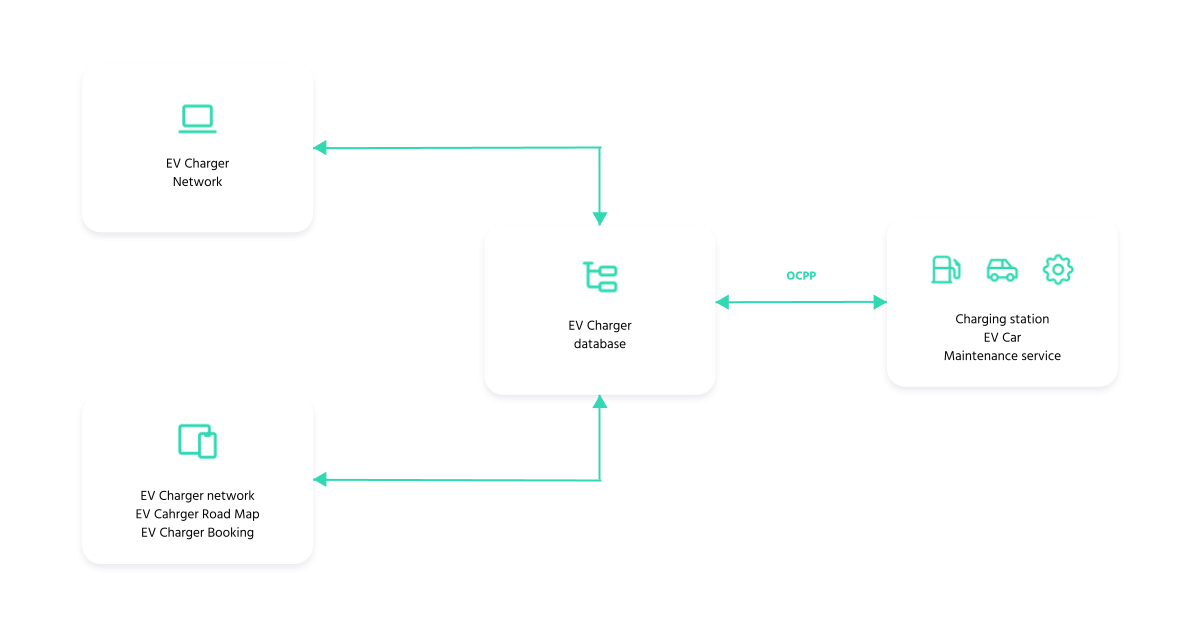 Put simply, OCPP ensures that any EV charger connects with any charging station management software, even if the charger manufacturers and software providers are building their products on opposite sides of the world. However, for business, it means so much more.
OCPP grants Charge Point Operators (CPO) their control back. You no longer face vendor-lock  (proprietary protocols, incompatible features) that wouldn't allow you to chose hardware that best fits your needs. In order to do so, you would have to spend a lot of money and buy completely new hardware (large numbers of EV charging stations) to get a different operating system – still not customizable. Now, with OCPP, you're able to choose the best hardware and match it with the system you like or design it yourself. Besides the obvious savings, it creates new business opportunities within the energy industry that we will discuss further in this article.
Open Charge Point Protocol (OCPP) - benefits
Open charge point protocol (OCPP) allows the usage of standard communication which makes it an easy and efficient solution. OCPP software is beneficial for all parties:
OCPP compliant charging stations manufacturers – can sell their hardware to the wider group of clients;

Charging stations management systems providers – can sell their software to a wider group of clients and provide important updates not constricted by hardware;

Charging Point Owners (CPO) – gain their freedom back, they can choose any software and match it with any hardware;
OCPP has the power to actively influence the whole market. We could see that first hand when OCPP 1.6 introduced a new feature – smart charging support. OCPP doesn't only influence companies operating within the industry, it changes the way we think about business and sets up expectations of EV users.
OCPP compliant charging station owners have the ability to connect to a chosen network without any upgrades or hardware changes that can cause data loss or weaken the connection within the network. Besides various benefits in terms of manufacturer-independent communication between charging points and charging infrastructure management systems, OCPP 1.6 introduces the scalable architecture, high-security standards, load balancing (grid security) and endless opportunities for customization.
The saving doesn't stop there. OCPP protocol supports smart charging and brings all the benefits from that solution. It enables remote managing, monitoring, and limiting each charging station to optimize overall energy consumption. Further, it provides charge point operators with dynamic load management possibilities. It's basically a power-sharing, allowing power grid operators to distribute contracted energy proportionally on all available charging stations and thus getting the most out of the available source without risking the outage.
OCPP compatible charging points will update and learn with the changing nature and demand of the EV market, using each version to bring the latest requirements to the owners and EV drivers. It matters. Easy adoption helps you secure your position on the market without unexpected hardware investments.
OCPP 1.6 and OCPP 2.0.1 protocols overview
Currently, there are two most known open source protocols – OCPP 1.6 released in 2015 and OCPP 2.0.1 from 2018.
OCPP 1.6 – it was meant to be a small software update, but for the time it was a life-changing release introducing new features to accommodate the market: Smart Charging, switch to JSON from Websockets, better diagnostics possibilities, more EV Charge Point Statuses and TriggerMessage. OCPP 1.6 is based on OCPP 1.5, with some new features and a lot of textual improvements that made it not backward compatible. It quickly became the EV industry standard and it's the most popular version of OCPP to this day.
OCPP 2.0 – The biggest software change that Open Charge Alliance has ever offered – charge point protocol OCPP 2.0 is an entirely different protocol compared to its previous versions. OCPP 2.0. has added security, transaction handling (wallet, easy pay), more smart charging capabilities (similarly to open smart charging protocol) and support for plug & charge and V2G. Yet, it is significantly less popular than its predecessor – OCPP 1.6 which is a well-known solid protocol implemented worldwide.
Why EV market didn't switch right away? You will find an answer in – OCPP 1.6 and OCPP 2.0 – which one to choose?.
EV charging infrastructure with OCPP
OCA chooses to promote open standards as the way to achieve all our environmental goals. Stranded assets (mostly charging stations), lack of customization and lack of freedom are indeed slowing down the growth of the market and influencing the EV drivers' experience. OCPP is the innovation that pushes the whole industry further.
OCPP is a strong, safe foundation that e-mobility builds upon. It's the best solution allowing bidirectional communication between EVSE and EV charger that can be further used in smart charging, dynamic load management and energy use optimization within the network.