ARTIFICIAL INTELLIGENCE, MACHINE LEARNING, AND ADVANCED ANALYTICS
Analyze, predict and grow
Along with rising market demands, companies have to face increasingly complex challenges. Handling these challenges requires evolution, introducing new and innovative technologies to your business.
Let us help you discover the vast potential of your existing data, introducing in-depth analysis, optimization, and self-improving algorithms to the company's most basic decision making processes. Artificial intelligence and machine learning software will transform your business into the enterprise of tomorrow, using digital capabilities to its fullest. Deep learning and advanced analytics solutions will reinforce your business strategy with the data-driven approach. Gain flexibility and enhanced performance, starting today.
OUR OFFER
Unlock digital potential with AI and advanced analytics
Advanced algorithms discover your data patterns and allow you to identify potential demands, opportunities, and risks in an automated growth model.
Extend knowledge about customers
General, standardized offers are outdated and being replaced with proposals tailor-made for an individual customer. Use AI to determine customers' needs concealed in gigabytes of data and forge it into business wins. Provide them with the very best solutions, building your brand of reliability.
Optimize and automate processes
Artificial intelligence helps in finding an optimal way for processes and shifts your company towards smart digitalization. Save time, resources, money, and improve decision-making processes.
Harness algorithms to make accurate predictions
As information rules the world, being aware of possible decision breaking points is crucial for companies. Machine learning introduces accurate predictive models for business, finding new associations in data, and delivering your company knowledge that advances business growth.
Find your patterns
Facing growing demands and the urgent need for rapid adaptation to the ever-changing business environment are common challenges for nowadays business. A state-of-the-art machine learning tools will support your company in analyzing thousands of possibilities and identifying both future trends you can benefit from and risks you can evaluate in advance and eliminate on time.
Self-learning deep analytics algorithms filter usable data out of huge data volumes, enabling multi-level, cost-effective optimization for your business.
Choose efficiency
When Internet users generate several quintillion bytes of data each day, it's getting harder to filter usable business data. To achieve that, data-focused enterprises engage deep learning algorithms to perform self-learning deep analysis enabling better planning, modeling, predicting, improving reliability, efficiency, and safety. Try multi-level, cost-effective optimization for your business.
Tame Big Data
Big Data may seem like a challenge that many companies have to cope with – how to manage it effectively, which data is essential for business, how to harness it? Deep learning answers these needs by offering high-performance analysis, extracting the essence out of large amounts of data, and improving the outcomes in time without human interference.
Accurate outcome out of complexity
Large volumes of data are your advantage deep learning is capable of shaping. The accuracy of the DL algorithms provides you with better insight into elements crucial for your company, points out new opportunities, and equips you with the adequate tools for intelligent development.
Predictive Analytics:
With an increasing number of data collected every day, how much of it works for your business benefit? You can reach its full potential, uncovering potential risks and opportunities for your business.
Find relationships among particular data sets and predict data-driven future outcomes. Use predictive analytics to transform vague plans and guessing into reliable predictions that will change and improve the operational model of your company.
Time series analysis: 
Customers' demand is constantly changing. To answer it accurately, pre-empt it in the first place, finding the patterns in already existing data.
Time series analysis delivers helpful insights based on historical data. It enables accurate forecasting for the future based on references and correlations between collected data.
Data & tech mining: 
Aiming precisely for market needs requires detailed data about its elements, starting with customers, their behavior, expectations, competition assets, finally, about business blockers. 
Data mining technics extract needed information and build a net of references with other data assets, providing you with a deep insight for future decisions.
RESULTS
What are the key benefits?
Increased flexibility and adaptation to changing market needs
Time reductions due to high-level automation
Pinpointed business opportunities, limited risks, and potential errors
Stable, data-driven organization growth
Optimized processes
Energy and costs reduction
CODIBLY PROJECT PROCESS
How we will work with you
1
WORKSHOPS
Discovery Workshops allow us to gain comprehensive knowledge and understanding of the project domain and your business needs
2
ESTIMATE
Knowing what you're aiming for, we prepare a detailed estimate drill down to the technical sub-tasks
3
KICKOFF
Once we have all collaboration details, we process the legal part, create a contract and sign it
4
DEVELOPMENT
Project team implements your vision in close cooperation with stakeholders
5
DELIVERY
We deliver a tailored solution and provide all required support
RELATED SERVICES
You might be also interested in:
Our expertise
Take our expert's word for it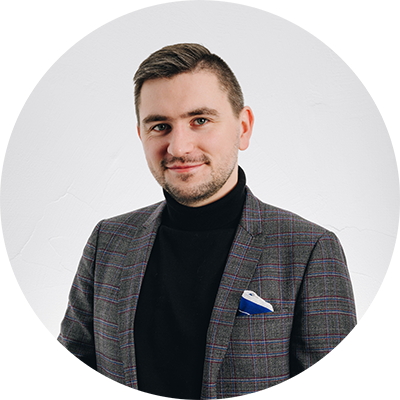 We are the reliable partner that supports the customer during the whole process, from building business models through implementation, deployment to exploitation and updates. We have extensive know-how in building pipelines, harnessing, and processing a vast amount of data in the Energy and Utilities sector. Our domain expertise braces clients in creating their business models.
Mariusz Kraj
Chief Innovation Officer
Client stories
Walk the talk!
We know that actions speak louder than words. Check what we crafted out of our clients' needs and ideas.